Sunday School – Children and Youth
In Pilgrim Congregational Church children and youth are invited to participate in an age appropriate Sunday School class during worship service from mid-September until Memorial Day. The whole congregation gathers in the sanctuary at 10:30 am, but after Passing the Peace, children and youth are offered to either stay in Worship or go to Sunday School.
In the Sunday School participants listen to various Bible stories, hear and learn about what it means to be a Christian.  We talk about how God's light shines into our daily lives in multiple ways, and how God's story in the Bible is part of our life's story today.
The children work with what the they hear and/or do, by painting/coloring, doing care projects, talking about it, and by asking questions.
Between Memorial Day and and Labor Day our Sunday school goes into hiatus, and the children and youth are invited to participate in the Worship Service, where the congregation offers a special children's message during the service. Children can also make use of our children's corner (see below).
Children's Corner in the Sanctuary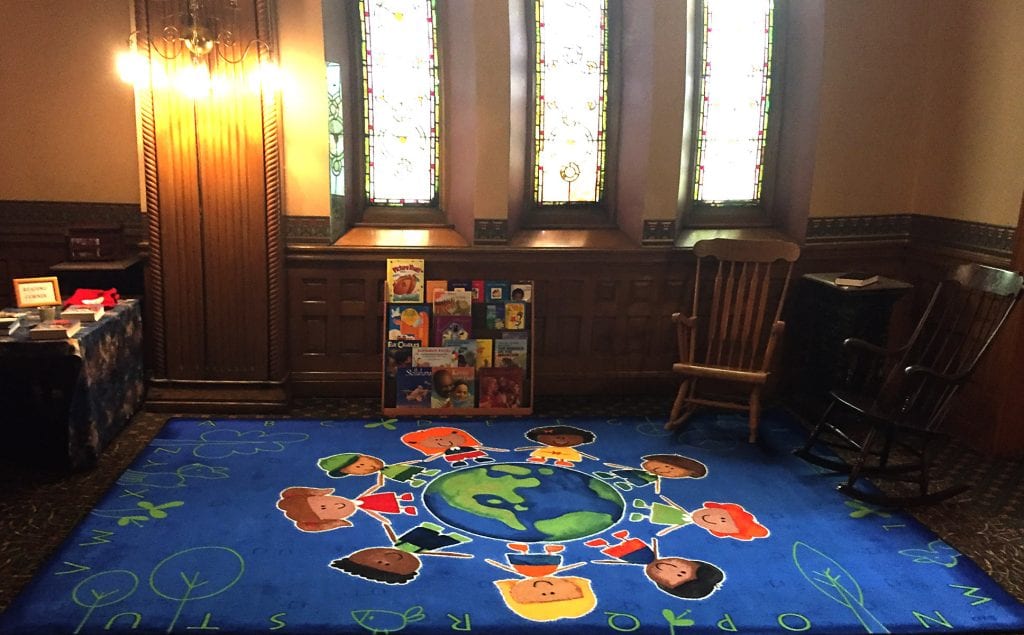 At Pilgrim Congregational Church we welcome all children to the sanctuary with their parents. In our worship space we have a small children's corner with books, crayons, and activity sheets for children at any age.
In our children's corner we also have rocking chairs for parents who wish to stay with their children.
Safe Church Policy
Pilgrim Congregational Church has a Safe Church Policy. All Staff and Congregational members who work with children and youth receive training about the policy. The Policy can be read here.